ARTFORUM GALLERY : 113 Tsimiski str and 111 Tsimiski str
Since 2011 our new location is 113 Tsimiski str and 111 Tsimiski str, which is used only for art exhibitions.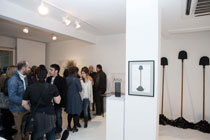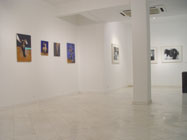 ARTFORUM GALLERY: 12 Mitropoleos Street, 3rd floor
Between 2004 and 2011 our gallery location was at 12 Mitropoleos Street, 3rd floor, in the downtown of Thessaloniki, Greece.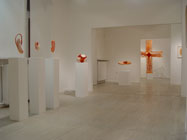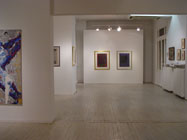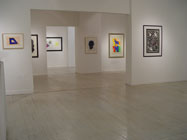 ARTORUM : VILKA GALLERY
Gallery space of 600m2 in converted industrial complex opened in 1996 with the exhibition of HELMUT NEWTON. Other artists exhibited there, are: Y. FOKAS, C. CARAS, THEODOROS, S. MARIJANOVIC, FOTIS, S. SOROGAS, O. ZOUNI, Y. LASSITHIOTAKIS, S. STUPAR, V. PLIARIDES, Y. XENOS, A. ANTONOPOULOS, M. MANOUSSAKIS, P. TANIMANIDIS, CHR. PETRIDIS, Y. KYRIS, D. AMELADIOTIS, B. VENETOPOULOS, S. AVGERIS, S.CHRISTODOULIDES, M. POLYMERIS ETC.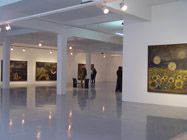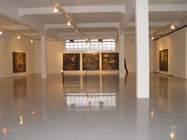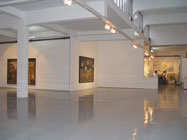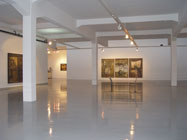 ARTFORUM GALLERY
Established in 1983 at 29 Nikiforou Foka Street, in the downtown of Thessaloniki.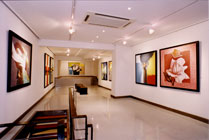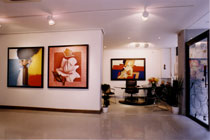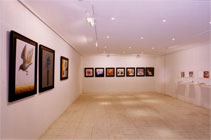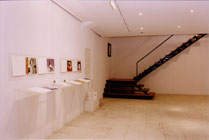 The mission of  ARTFORUM GALLERY
ARTFORUM GALLERY is committed to exhibiting the latest and finest work of contemporary Greek and international artists. The calendar calls for eight exhibits annually. Work is drawn from the artists' studios.
Exhibition space – Location
Exhibition area = 150m2
Storage space = 150m2
Height = 4m
Hanging meters = 110m 
ARTFORUM GALLERY is situated in the heart of Thessaloniki, 100m from the port, with parking and a public bus stop adjacent to the building. The exhibition space is located on the third floor. There is a reception area at the entrance with catalogues, art books, periodicals and small sculptures and constructions on display. 
Publications
For exhibitions, invitations, posters, and catalogues may be used. For concurrent events, invitations, programs, and educational brochures may be used. All activities are presented on our website artforum.gr
International art fairs
The gallery takes part in important international art fairs, including:
ART THESSALONIKI INTERNATIONAL CONTEMPORARY ART FAIR
ART ATHINA
ARCO MADRID
ART FORUM BERLIN
SHANGHAI ART FAIR
ART JOCTION NICE-CANNES
VERGE ART FAIR MIAMI
ARTFORUM GALLERY cultivates partnerships with other international art exhibitors and cultural agencies.
Terms of partnership: contemporary art
Availability
The calendar of exhibitions at ARTFORUM GALLERY is ordinarily confirmed at least one year in advance. Priority, however, is given to international exhibitors due to transportation and other logistical issues
The operational rationale
The rationale of the establishment and operation of ARTFORUM GALLERY  is the organisation of contemporary art exhibitions (Greek and foreign artists).