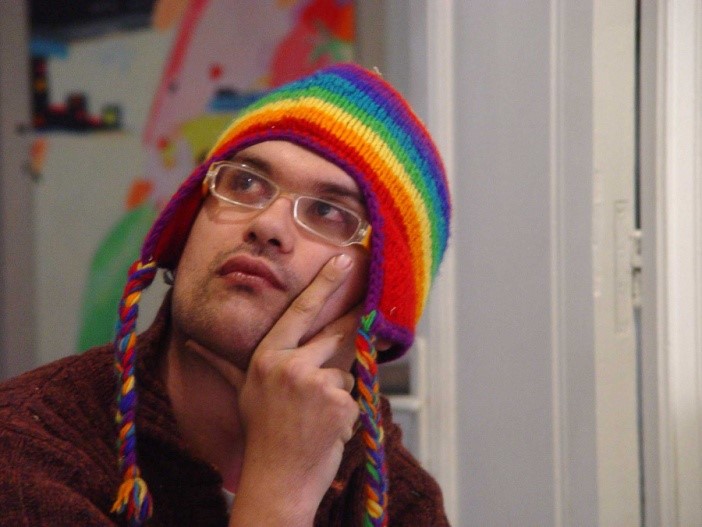 Ameladiotis Dimitrios (Thessaloniki 1979)
1998-2004 School of Fine Arts, Aristotle University of Thessaloniki,
2001-2002 Konijkee Academy of Audiovisual Fine Arts of University of Gent,
2007-2008 Master & Pg Dip, Fine Arts Course of Chelsea College of Art and Design, University of Arts.
SOLO EXHIBITIONS

Artforum Gallery 2004-2012,
Elika  Gallery, Donopoulos, Lola Nikolaou,
He has also taken part in many group exhibitions, at London, NY, Izmir and in Art Athina Fair 2005,6,7,8,10,11 and Art Shanghai Fair with Artforum Gallery.
Artist statement..In my artistic practice I would like to research how the syndrome of Stickler from which I suffer plays an important role in my creative process. I am partially sighted and hard of hearing. My fingers are rather long because of this disability. This prevents me from doing punctual movements. I love my odd fingers. I do art because I like moving my hands. In addition, doing art is nothing more than my ambition to carve out for myself a special standing within the society. Great artists in unpleasant pathological and psychological states such as Leonardo da Vinci, El Greco, Van Gogh, Monet, Frida Kahlo, Joseph Beuys etc. encourage me to do art. Doing art I liberate my strong internal energy. According to the laws, I am a person in special needs. In my opinion, I am a special person!