ART-ATHINA 2008
Gallery TSATSIS PROJECTS / ARTFORUM (Mitropoleos 12, Thessaloniki GR, tel. 0030 2310 257552), is proud to present a wonderful set of artworks, made by 11 of its artists, under the title "3 Generations", in the 14th ART-ATHINA, in 23 – 25 May 2008, which will take place in the exhibition center of Helexpo – Athens.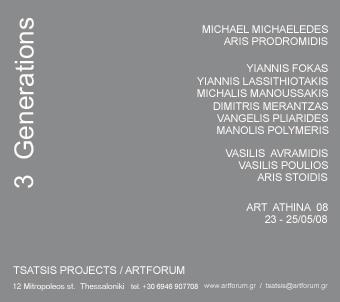 The 14th Art Athina was completed in great success, on Sunday the 25th of May
The two young artists Avramidis Vasilis and Poulios Vasilis and the well-known artists Michaeledes Michael and Manoussakis Michalis are the ones who distinguished amongst the other artists participated. Prodromidis Aris, Fokas Yiannis, Lassithiotakis Yiannis, Merantzas Dimitris, Pliarides Vangelis, Polymeris Manolis and Stoidis Aris also had great success.